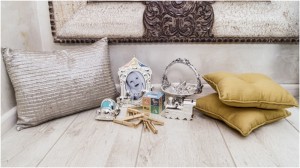 When designing your home, what holds more value: off the shelves, factory-made objects, or timeless collectibles that tell a story of the past? I think the answer is obvious. Agrees Dilshad J Patel, an avid antiquity collector, says "Each and every object in my home has been carefully collected over the years from various antique shops, auctions, specialist dealers and my overseas travels. It gives me great pride and satisfaction to know that every piece is special and extraordinary in its own way. When guests visit, my collection of antiques becomes the talking point of the evening".
Understanding what antiquity is appealing and cohesive in a home can be tricky. Here are a few trending timeless collectibles to help inspire.
Must-Haves
Porcelain Vases: Recently, a one-of-its-kind porcelain vase from the 14th century Yuan Dynasty went under the hammer, selling for $1.2 million. This set the stage for dainty, white and blue decorated porcelain vases to erupt as a must-own collectible.
Wooden Furniture: Pre-20th century wooden furniture is en vogue, with a focus on classic dressing tables, vintage mirrors and magnificent chandeliers.
Clocks: Clocks remain an evergreen favorite of collectors especially antique grandfather clocks (glorious floor standing clocks with swinging pendulums).
Coins: Coin collections hold value in that they change through history, but always remain a part of every day culture. Plus, they look great in display.
Oil lamps: Oil lamps have a strong place in history and ancient arab literature. When in good condition, they have the power to enhance the mood in even the most modern homes.
Manuscripts: Manuscripts look great on display but also tell a story, literally and metaphorically.
For guidance in decorating your home with antiquity, click here!