Greco-Phoenician Core-Formed Alabastron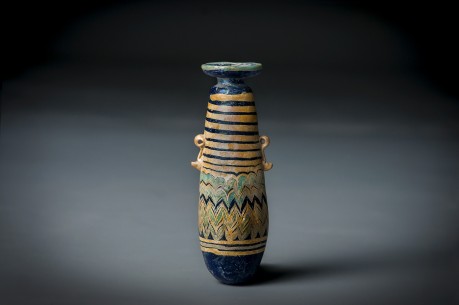 GL_GR_1005
Greco-Phoenician, 500 B.C.E. - 400 B.C.E.
H. 12.4 cm
Intact
Sold
Collection of the Dubois family, USA, acquired c.1920 and thence by descent.
In translucent deep blue glass with opaque yellow and turquoise threads. The vessel has a wide everted rim edged in turquoise, a short neck and a long tubular body widening at the rounded base. A trail of yellow spirals around the upper half of the body in an anticlockwise direction. The lower half is decorated with rows of turquoise and yellow threads tooled into a zigzag pattern, three trails of yellow below. Two handles in yellow are applied towards the middle of the body.
Exhibited: San Diego Museum of Man, c. 1956
Literature: A less elegant example is illustrated in E. Marianne Stern, Birgit Schlick-Nolte, 'Early Glass of the Ancient World, 1600 BC-AD 50. The Ernesto Wolf Collection', (Germany, 1994) pp. 204-205.