An Animal Frieze Fragment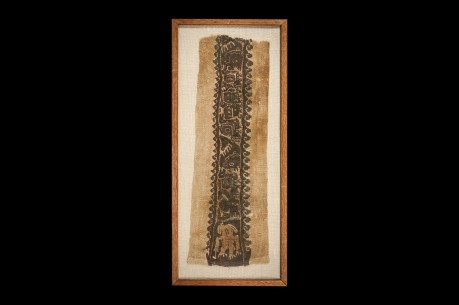 TX_EG_1002
Egypt, Coptic, 300 C.E. – 500 C.E.
L. 29 cm, W. 10 cm
Fine Condition
Sold
Formerly Coll. Eduard Schällibaum, 1950's–60's, Chur. - On back of frames, alleged find spot "Upper Egypt", inv. no. "716. 269. 476".
ANIMAL FRIEZE FRAGMENT. – Dark frieze of large fish and winged creatures arranged either facing each other or one behind the other on a light ground. At the left end a human figure with hunting weapon (lagobolon?) rendered in a light colour on a dark ground. Framed by spiral border.
Mounted on beige linen ground and framed. Fragments of tunics, tabulae, etc. – Cf. Cat. Leipzig – 2002, 113 ff. nos. 157–173 with ill.