Roman Bronze Medusa Phalera with Silver Inlays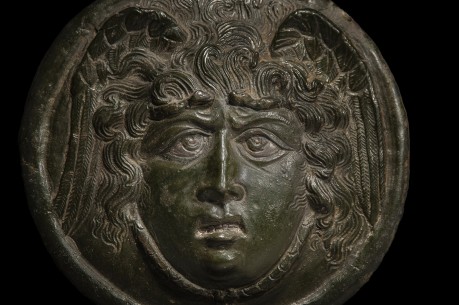 SI_RM_1080
Roman, 200 C.E. - 300 C.E.
D. 12.5 cm
Excellent condition. Minor cosmetic fillings, otherwise perfect.
Sold
Medusa, the beautiful gorgon with winged head and snaky hair, is modeled in relief on the convex disc, as a beautiful woman with severe face, her long hair falling in rich curls around her head, turned into curled snakes, tied below her chin. A large pair of wings coming out from the top of her head and spreading to its sides.
The Medusa face is portrayed with dramatic expression, with frowning brows, large accentuated eyes, long nose with dilated nostrils, and the full lips slightly opened to expose clenched teeth. The eyes and teeth accentuated with inlaid silver.
The figure is modeled in fine style, and the details rendered with great attention, to create a vivid expression and liveliness.
The Phalera, an armor decoration, mounted on the chest, was believed to have the power to protect its bearer from enemies and to ward off the evil. It may be found in depictions of the goddess Athena (- Minerva) and the god Mars (-Ares), of Alexander the Great, and of Roman Emperors and military officers.
Reference: Cf. Medusa phalera on goddess Athena: De Caro, S., The National Archeological Museum of Naples, 1996, p. 320. On Alexander the Great: Ibid, p. 144.
On a Roman Emperor: Kleiner, D. E. E., Roman Sculpture, Yale University Press, 1992, p. 240, fig. 203. On the god Mars: Ibid, p. 182, fig. 150.