Greek Ceramic Figurine of a Sphinx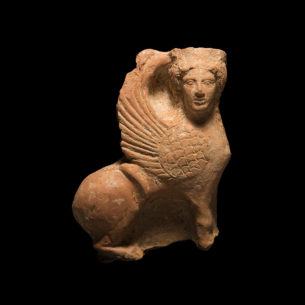 SI_GR_1034
Greek, 6th – 5th century B.C.E.
H. 18 cm
In a good state of preservation, without any restoration.
Private collection G. A., Gardena, California, USA.
According to ancient literary sources, the sphinx was a monster with the face and bust of a woman, the talons of a lion, the body of a dog, a serpent's tail and wings of a bird. Its pale appearance, venomous mouth and stony gaze characterised this demon of divine origin. Its presence amongst humans created uncertainty and fear. It is possible that this hybrid had its origin in Egyptian iconography, where it was represented with the body of a feline and a human face, and was probably related to the divine power of the pharaoh.
This terracotta piece shows a monster seated on its haunches and in profile, with its head turned to the right toward the public. The female countenance has idealised features of great beauty. The thick, wavy hair is crowned with a polos or crown on the Corinthian model. On the right wing the rendering of the feathers shows a clear interest in the anatomical details of birds: the feathers inserted into the body itself are small and short, rather like scales, while those at the extreme end of the wing are long and narrow, to help the bird take flight.
The sculptural prototype of Greek sphinxes appears around the 7th century BC in terracotta, and was usually found decorating large receptacles. A century later they appeared in marble crowning seated ex-votos on a column. The monstrous, aggressive nature of the hybrid was channelled into funerary art, serving as an apotropaic symbol to keep away malevolent forces. It was usual, therefore, to find this iconography in metopes and hollow acroteria in Greek necropoleis of the 6th century BC, usually with the animal in profile and turning its head toward the public in an attitude of defiance.
BIBLIOGRAPHY:
BILLOT, M.F. "Le Sphinx du Louvre CA 637", Bulletin de Correspondence Hellénique. 1977.
MARCONI, C. Temple Decoration and Cultural Identity in the Archaic Greek World. Getty Foundation. 2007, p. 90.
RENGER, A.B. Oedipus and the Sphinx: The Threshold Myth from Sophocles through Freud to Cocteau. UCP. 2013.
STILLWELL, A. N. Corinth: The Potters' Quarter. Harvard Univ. Press. 1952.