Partial List of Eparchies in the Byzantine Church with Bishoprics in Asia Minor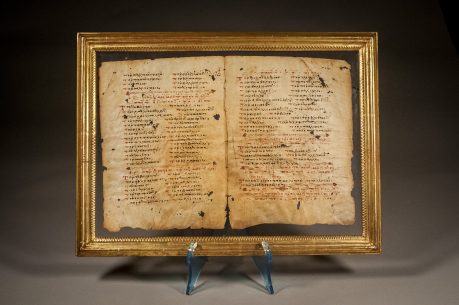 MS_BZ_1014
Byzantine
Baidun Collection, acquired at Christies sale November 2013
Fine condition
Price available upon request
Baidun Collection
Greek bifolium from the inside of a gathering with Greek foliation in a later hand, ff. 119, 120.  Written on vellum in a small, neat minuscule hand in dark brown ink with section heading, initials, and ornamental penwork divisions in red.  It does not appear to have been ruled.
Date:  11th century.  See V. Gardthausen, Griechische Palæographie: Zweiter Band:  Die Schrift, Unterschriften und Chronologie im Altertum und im byzantinischen Mittelalter, Zweite Auglage (Leipzig: Verlag von Veit & Comp., 1913), Taf. 7.
Provenance: This was formerly in the collection of late Professor David Bitzer of the Union Theological Seminary in Richmond, Virginia,  According to De Ricci & Wilson he obtained it from the London dealer Leighton.  The consignor was a descendant of Bitzer.
Contents:
The contents follow that of the edition of the Notitiæ by Darrouzès.  The list for each eparchy has been supplied from a scanned image of his work in Notitia 1, 144-326, pp. 207-211.