Hellenistic Bronze Face of Silenus Greek god of Drunkenness and Wine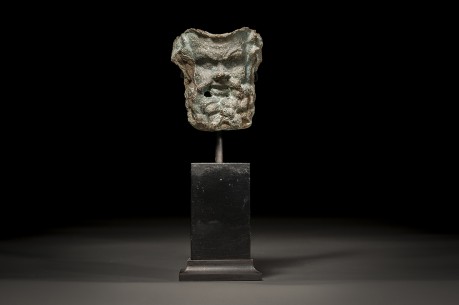 SI_GR_1016
Hellenistic, 300 B.C.E. - 200 B.C.E.
H. 6.5 cm
Two holes below the mouth. Surface with light punch marks
$8,500 USD
The Baidun Collection
Silenus Greek god of Drunkenness and Wine-Making
This bronze depiction of Silenus, Greek god of drunkenness and wine-press, dates to the Hellenistic period 300 B.C.E. – 200 B.C.E.  He was companion of the wine god Dionysus, and from the 5th century B.C.E. the name Silenus was applied to Dionysus' foster father, which thus aided the gradual absorption of the Satyrs and Sileni into the Dionysiac cult.
Here Silenus is depicted as an old satyr with a long mustache and a square beard with big curling hair locks.  The face has strong features with chubby cheeks, snub-nose, fleshy lips, frowning brows, as well as pointed ears with ivy leaves set over both of them.  The face is finely modeled with a strong and living expression.  It is framed with a contour line at the border of the missing upper and back parts of the head.
Such a facial depiction was applied on a statue which was possibly made of other material.  The punched surface of the face may indicate that it was plated or sheathed with silver or gold.
Classical Depictions of Silenus
A notorious consumer of wine, Silenus was usually drunk and had to be supported by satyrs or carried by a donkey. When intoxicated Silenus was said to possess special knowledge and the power of prophecy:  It was believed that he acquired arcane knowledge and was able to predict the future.  Seilenos was, in essence, the spirit of the treading dance of the wine-press – his name being derived from the words seiô, "to move to and fro," and lênos, "the wine-trough."
Reference:
For the style:
cf. Smith, R.R.R., Hellenistic Sculpture, Thames and Hudson, London 1991, fig. 299; Stewart, A., Greek Sculpture. An Exploration, II ( plates ), Yale University Press, New Haven & London, 1990, figs. 684, 708.
For a similar Etruscan Satyr:
cf. Mitten, D. G., and Doeringer, S. F., editors, Master Bronzes from the Classical World, Exh. cat., Fogg Art Museum, Cambridge, Mass., 1967, p.222, fig. 225.
For Silenus' head:
cf. Ibid, p. 125, fig. 125.
Sources:
1.) Britannica – Satyr
2.) Wikipedia – Silenus
3.) Theoi – Seilenos
4.) Greek Mythology – Silenus