Greek Lekythos In The Shape Of A Bull's Head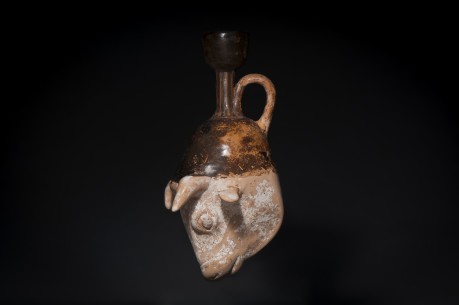 SI_GR_1002
Greek, 400 B.C.E.
H. 17.5 cm
Excellent condition, The rim is repaired
Sold
The vase is whole and practically intact. The light beige clay is highlighted with white (protome) and black (semi-spherical part, neck and handle). One can guess a seated figure painted in white silhouette just behind the horns; vertical lines and a dot frieze adorn the neck.
The vessel is composed of two elements: the bull protome, which was finely molded, and the semi-spherical, hand-modeled upper part. The shape of the neck, cylindrical and narrow, allows us to compare this vase to a lekythos – one of the most popular shapes with a funeral use in the Classical period. While no precise parallel can currently be proposed for this shape, the closest examples from a typological point of view are the rhyta (cult vases) with a zoomorphic protome painted in black with red figures scenes decorating the wide neck.
The tradition of manufacturing cult vases as rhyta or other zoomorphic vases was widespread in Attica in the 5th century, but grew especially in the western Greek colonies (southern Italy and Sicily) during the following century, when numerous animal (lions, sheep, dogs or wolves, bulls, etc.) or monsters (griffin) species have been imitated for the molding of containers.
PUBLISHED IN
KOZLOFF A. and al. More Animals in Ancient Art from the L. Mildenberg Collection, Part II, Mainz / Rhine, 1986, n. 66.
BIBLIOGRAPHY
HOFFMANN H., Attic Red-Figured Rhyta, Mainz / Rhine, 1962.
HOFFMANN H., Tarentine Rhyta, Mainz / Rhine, 1966.
TUCHELT K., Tiergefässe in Kopf- und Protomengestalt, Berlin, 1962.